Helicopters are used for many different reasons, such as transporting offshore personnel to oil rigs and vessels; performing search and rescue operations; firefighting; and military operations. Their complex flight capabilities, including vertical take-off, forward, lateral and backward movements, and hovering ability make them ideal for accessing remote or crowded areas that a fixed-wing aircraft cannot go.
As useful as they are, helicopters can also be very dangerous if carelessness or neglect is involved. The causes of Gulf Coast helicopter accidents can be grouped into two main categories — operational or mechanical.
Over $1 Billion Recovered For Our Injured Clients
Offshore Helicopter Accident Information
Operational Errors
Helicopters are complicated machines that require a high degree of skill to operate safely. Operational error that leads to a crash can occur during the planning, flying, training or maintenance of the craft.
Some examples of operational error that causes helicopter accidents include:
Failing to properly plan a flight path.
Failing to adequately maintain the helicopter.
Failing to operate the craft properly.
Operating the helicopter in unsafe conditions.
Failing to undergo appropriate training for flight and maintenance personnel.
Failing to provide proper training manuals and operational procedures.
Failing to follow proper oversight and review procedures.
When the cause of a helicopter accident is one or more of these human errors, there may be several different parties who are negligent. The pilot, the company who employed him, the maintenance company responsible for the craft's upkeep, and more may all be held liable in a Louisiana helicopter injury lawsuit.
Section Open DIV
Nationally Recognized Attorneys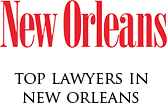 Section Close DIV
Mechanical Problems
The second type of helicopter accident cause is related to the helicopter's mechanical processes. Helicopters are made up of many sophisticated parts, including engines, flight controls, rotors, gears, drive shafts, and electronics that all must operate correctly for safe flight to occur.
Mechanical malfunctions can include problems in the following areas:
Design
Testing
Manufacturing
Quality control
Operational monitoring
Maintenance
Installation
Electrical issues are a common source of a helicopter malfunction, including electrical shorts and electrical component malfunctions.
When any component, or a combination of components, malfunction on a helicopter, the results can be tragic for those on board.
Get Help with Gulf Coast Helicopter Accident Claims
Lambert Zainey has represented pilots, passengers and survivors of victims in helicopter injury and wrongful death claims, on land and offshore, primarily in the Gulf of Mexico.
No matter the cause, helicopter accidents often result in wrongful death. For those who survive, the injuries can be debilitating and limit their ability to work and return to normal daily life. Long-term medical treatments combined with an inability to work can quickly become overwhelming financially. The parties responsible for the accident should be held liable for your physical, emotional and financial damages.
If you or a loved one has been injured in a commercial or private helicopter accident, the Lambert Firm can protect your legal rights and aggressively pursue the maximum compensation that you are entitled to. Contact a New Orleans helicopter accident lawyer today for a free consultation.