Thousands of people in Louisiana and throughout the Gulf Coast region work in the demanding and sometimes hazardous oil and gas industry. These jobs come with many dangers. For workers on drilling rigs and vessels, one of the biggest dangers is being injured or killed in offshore helicopter accidents.
Helicopters often transport crews and supplies to and from offshore work sites, including offshore platforms, jack-up rigs, ships, and other structures. They are also utilized in emergency situations, such as airlifting injured crewmembers to shore or performing rescue operations at sea.
When you are injured or a loved one is killed in an offshore helicopter crash, it's important to get help from an experienced Louisiana offshore helicopter accident attorney as soon as possible. At Lambert Zainey, we understand the needs of injury victims and their families. Our accident lawyers will help you and your loved ones through this difficult time and guide you through the legal process while you focus on healing both physically and emotionally.
Over $1 Billion Recovered For Our Injured Clients
Causes of Offshore Helicopter Accidents
In the Gulf of Mexico alone, there are more than 3,900 oil platforms and an estimated 30,000 workers commuting back and forth from these rigs to shore. An accident can occur at any point in the journey from shore to work site and back.
Offshore helicopters offer great maneuverability for the jobs they perform, but these complex machines require a high degree of skill in design, manufacture, and operation.
The most common causes of helicopter accidents offshore include:
Pilot error
Poor maintenance
Defective design
Defective manufacturing
Poor weather conditions
Inadequate training
Improper loading/overloading
Because most crashes occur over water, locating and salvaging the wreckage for investigation and analysis can be a complicated matter. In addition, legal complexities arise in determining what laws apply in a claim arising from an offshore helicopter accident.
Gulf Coast Offshore Helicopter Injury Claims
The fatality rate for the average worker in the U.S. is 3.8 deaths per 100,000 workers. Among oil and gas workers, that rate is 27.1 deaths per 100,000. Of oil and gas workers killed from 2003 to 2010, 75% of fatalities were the result of helicopter accidents.
Workers who survive a helicopter accident often suffer severe injuries, including:
Traumatic brain injury
Spinal cord injury
Broken bones
Loss of limbs
Because the cause of offshore helicopter injuries is often negligence on the part of one or more parties, the victims of these accidents and families of those killed are entitled to pursue damages against those responsible.
Complexities arise in offshore aviation injury claims when determining which laws apply. If the crash is found to be related to maritime activity, the Jones Act may apply. This federal maritime law protects workers injured while in territorial waters of the United States, less than 12 miles from shore. Accidents that occur more than 12 miles from U.S. shores may fall under the realm of the Death on the High Seas Act.
If the accident is found to be unrelated to maritime activity and occurs less than 12 miles from shore, the applicable state laws regarding personal injury and wrongful death claims likely will apply.
Section Open DIV
Nationally Recognized Attorneys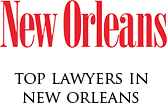 Section Close DIV
Offshore Helicopter Accident Information Center
Get Help Protecting Your Legal Rights
The New Orleans offshore helicopter accident lawyers at Lambert Zainey have been helping maritime workers and their families from Louisiana and throughout the Gulf Coast region for more than 35 years. If you were injured or a loved one killed in an offshore accident, contact us today to schedule a free consultation and learn your rights.