Helicopter accidents can occur in a wide range of circumstances. The Gulf Coast chopper crash injury lawyers at Lambert Zainey have extensive aviation litigation experience against owners, operators, manufacturers and designers whose negligence led to the injuries or wrongful deaths in helicopter accidents.
Over $1 Billion Recovered For Our Injured Clients
Our Louisiana helicopter accident law firm can assist with:
Air Ambulance Accidents
In the past, only the most critical injuries resulted in the use of Helicopter Emergency Medical Services (HEMS). This has changed in recent years, with an estimated 840 EMS choppers operating today.
While air ambulance transport can save lives when time is of the essence, this comes at a cost. In 2010, the rate of fatal accidents during air ambulance travel was 1.18 per 100,000 hours flying.
The most common causes of air ambulance accidents are:
Pilot fatigue
Poor chopper maintenance
Bad design
Pilot disorientation during night flight
Poor weather conditions
Collision with fixed objects (such as a mountain, the ground or other obstacle)
Most safety measures that are required for other aircraft are not mandatory for air ambulances, including Flight Data Recorders and Terrain Awareness Warning Systems.
News Chopper Accidents
The bustling 24-hour news cycle has made news helicopters a common sight, but it can be dangerous work for the pilot and passengers. The scenes being covered by a news chopper are often chaotic — major accidents, high-speed chases, etc. — and can easily distract the pilot from safe operation of the equipment.
In addition to the common accident causes listed above, air traffic control negligence can also be a critical problem that causes serious chopper crash injuries and fatalities.
Personnel Transportation Accidents
Offshore helicopter accidents often occur when workers are being transported to or from an oil rig or vessel. Other industries also use choppers for bringing personnel to a job site that is in a remote location or hard to access by other means.
Accidents with personnel carriers are often caused by unanticipated weather conditions, mechanical failures, and pilots under stress to deliver workers quickly.
Tour Helicopter Accidents
Louisiana chopper crash injury attorneys know that our beautiful state and the Gulf Coast region have many wonderful aerial views to behold. Helicopter tours are one way that visitors and residents do this, but sightseers often aren't made aware of the risks that come with these ventures.
Not all chopper tours are reputable and even those that are can still be involved in accidents due to pilot error, sudden weather changes, or mechanical problems.
Work Chopper Crash Injury Accidents
Their high degree of maneuverability makes helicopters idea for many industries. Work helicopters are often used for:
Fighting wildfires
Carrying heavy suspended loads
Logging
Filmmaking
Construction
Aerial observation and photography
Military operations
Police operations
Search and rescue operations
All of these uses come with their own risks, in addition to the common helicopter accident risks associated with helicopter operation.
Section Open DIV
Nationally Recognized Attorneys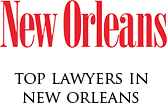 Section Close DIV
Offshore Helicopter Accident Information Center
Injured in a Chopper Crash?
If you were hurt in a helicopter accident, you need help from an attorney who is experienced in aviation litigation. Lambert Zainey's chopper crash injury lawyers in New Orleans have represented individuals affected by these accidents on land and offshore throughout the Gulf Coast region.
Our experienced legal team has helped pilots, passengers, and the families of passenger-victims to recover compensation from the negligent party for the damages they suffered. We can help you, too. Contact us today to schedule a free consultation.