Offshore oil rigs are a common sight off the Louisiana Gulf Coast. At any given time, there are hundreds of rigs operating in the Gulf of Mexico. Drilling rigs play an important role in supplying the oil and gas that keeps the American economy running.
There is always the possibility of an accident, injury, and even death while working on an offshore oil rig. Being an offshore oil rig worker involves using complicated, potentially dangerous heavy equipment and machinery to obtain an explosively flammable gas or fluid on a structure built in a hostile environment far from the nearest hospital emergency room. History has shown us that one simple human error or defective piece of equipment is all it takes to trigger a deadly disaster aboard an offshore oil rig.
OFFSHORE ACCIDENT INFORMATION
Oil rig owners and operators have a legal obligation to maintain a safe working environment for their workers. This includes:
A workplace free of trip and fall hazards
Proper maintenance and repair of equipment
Proper employee training
Proper safety equipment and training
When they fail to do so, accidents can happen. Oil rig accidents can inflict serious, even fatal injuries on any worker aboard the rig.
Oil Rig Injury Attorneys Help Workers Obtain Compensation
If you've suffered an oil rig injury that resulted from the negligent actions of a co-worker or the rig's owners, maritime law gives you the right to seek compensation for the damages caused by your injuries. Damages resulting from an offshore drilling rig accident may include:
Existing and continuing medical expenses
Pain, suffering, and mental anguish
Obtaining full compensation for your injuries is often a challenge. The laws protecting the rights of injured oil rig workers are complicated and can be hard to navigate if you aren't familiar with maritime law. An oil rig injury attorney at Lambert Zainey Smith & Soso can help. We've been protecting the rights of offshore oil rig workers injured in accidents off the Gulf Coast and other locations since the 1970s. During that time we've obtained hundreds of millions of dollars in settlements for our clients, including oil rig workers injured and killed in the ARCO explosion, the Drillship Seacrest capsizing, and the Penrod Modu collapse disasters.
Section Open DIV
Nationally Recognized Attorneys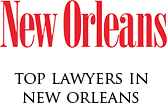 Section Close DIV
Types of Offshore Oil Rig Accidents & The Injuries They Cause
A devastating accident can happen at any time aboard an offshore drilling rig. Some of the most common causes of oil rig injuries include:
Fires and explosions
Defective machinery and equipment
Slips and falls
Falling objects
Transportation accidents
Falling overboard
Chemical exposure
Lack of proper safety training/equipment
Oil rig accidents can result in a wide range of serious, even fatal injuries:
Burns
Bone fractures
Traumatic brain injuries
Spinal cord injuries
Drowning
Hypothermia
Soft tissue and organ injuries/pressure wave injuries
Nerve damage
Disfigurement
Amputations
PTSD
In some instances, these injuries can be so severe that they require permanent medical care and treatment. The injured worker may be unable to return to their job, or even work again.
Over $1 Billion Recovered For Our Injured Clients
Offshore Drilling Rig Accidents and Maritime Laws
There are many maritime laws that protect the rights of injured offshore oil rig workers. These include:
It's possible for one or more of these laws to apply in your case.
Why Choose an Oil Rig Injury Lawyer at Lambert Zainey Smith & Soso?
Being entitled to compensation and actually collecting money for the damages caused by your work-related offshore oil rig injuries are two different things. Obtaining full compensation for your injuries can be difficult, if not impossible, if you're not familiar with maritime law. You need professional legal representation from an experienced oil rig injury attorney.
The New Orleans-based oil rig injury attorney team at Lambert Zainey Smith & Soso has been protecting the rights of injured offshore oil rig workers for almost 50 years. We're recognized as one of the leaders in the field of maritime accident and offshore accident claims. Our drilling rig accident lawyers have the experience, expertise, and resources to identify what maritime laws apply in your case, assemble the evidence needed to support your claim, help you assign an accurate value to your damages, and negotiate your claim with the oil rig owner's insurance company. If we are unable to negotiate a fair settlement, we will fight aggressively on your behalf in court.
Lambert Zainey Smith & Soso is dedicated to protecting your rights. If you've been injured in an oil rig accident, contact 800-521-1750 today to schedule a free initial consultation with an experienced Louisiana drilling rig accident lawyer.