The Longshore and Harbor Workers Compensation act, also known as the LHWCA, provides benefits for maritime workers in New Orleans, Louisiana and and any offshore workers who suffer occupational injuries or diseases but are not covered by the Jones Act or state workers' compensation laws.
The Jones Act only covers claims for those who meet the qualification of a seaman, which many maritime workers do not. State worker's compensation laws do not cover workers employed on navigable waters. The LHWCA fills that gap, and Lambert Zainey is here to help make sure your rights under this law are protected.
Section Open DIV
Who Is Covered by the LHCWA?
The Longshore and Harbor Workers Compensation Act covers workers who are employed in support of the maritime industry on any navigable waterway, including:
Longshoremen
Dock and port workers
Port crane operators
Salvage and repair divers
In addition to these workers, the Outer Continental Shelf Lands Act, or OCSLA, extends the protection of this law to non-seamen employed on the Outer Continental Shelf. Workers who likely will not qualify under this law include clerical workers, seamen, and federal government employees.
Section Close DIV
Section Open DIV
Nationally Recognized Attorneys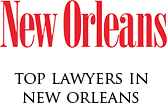 Filing a Longshore and Harbor Workers Compensation Act Claim
The New Orleans LHWCA claims attorneys at Lambert Zainey encourage injured workers to seek assistance in filing a claim as soon as possible, as time is of the essence. Injured workers must notify their employer of the injury within 30 days, and an LHWCA claim must be filed within a year of the date of injury.
Compensation available through this maritime law includes:
Medical costs
Disability payments
Rehabilitation
Wrongful death benefits for families
In general, a worker who is covered by the Longshore and Harbor Workers Compensation Act is entitled to temporary benefits equal to ⅔ of his average weekly wages while being treated for his injury.
Over $1 Billion Recovered For Our Injured Clients
The Longshore and Harbor Workers Compensation Act is similar to state workers' comp laws in that a worker's injuries do not have to be caused by negligence to be eligible for benefits, however in many cases, a worker may be able to recover higher damages through a third-party negligence lawsuit.
Although the LHWCA forbids workers from directly filing a negligence lawsuit against his employer, it does allow for claims against third parties, such as a ship owner or equipment manufacturer that contributed to your injuries.
Get Help With Your LHWCA Claim
With more than 35 years of experience in helping injured maritime workers, Lambert Zainey has the legal expertise and resources to thoroughly investigate and pursue your Longshore and Harbor Workers Compensation Act claim. Our Louisiana LHWCA attorneys can provide honest advice during a free, confidential consultation.
Should a claim prove to be necessary, our attorneys work on a contingency basis. This means that you pay nothing until we recover compensation for you. Contact our maritime injury attorneys today.