"Do I need a maritime attorney?" It's a question workers should ask when injured offshore. Unfortunately, many don't.
When an offshore worker is injured and it does not require immediate, emergency medical attention, the first thing he or she thinks is "It's not that bad. I'll work through it. I need this job." Often times, seamen don't even report the incident that caused the injury because they hope the injury will just get better. But no one asks to get hurt.
Whether you've reported a maritime accident or not, consulting with an experienced New Orleans maritime injury attorney will allow you to know your rights and know the answers to the questions you have about whether a lawsuit is worth it or not.
Your employer does not need to know that you've spoken with a lawyer – our communications are completely confidential. It is important to contact a lawyer right away before you sign any paperwork or agree to something that might limit your right to recover compensation.
An experienced offshore injury attorney can advise you of your rights and determine whether a lawsuit is worth it to you or not. We know you value your job and work hard for the money you make on a push boat, drill ship, crew boat, supply vessel, drilling barge, midstream operation, plug & abandon job, crane barge or salvage work. We won't contact your employer unless you decide you want to pursue a lawsuit.
We answer questions for free. Our discussions are completely confidential, protected by Attorney-Client Privilege. Whether you think you want to file a lawsuit or not, call or e-mail us to find out the information you need to know.
Do I Need A Maritime Attorney For Jones Act Claims?
Unlike workers' compensation claims, the Jones Act allows you to sue your employer for sustaining a work injury that is their fault.
The Jones Act differs from a worker's compensation claim because it allows an employee to sue a company for negligence that causes injuries. It also gives the employee up to three years from the date of the injury to file a lawsuit. Additionally, seamen are entitled to a wide range of damages, including lost wages past and future, loss of earning capacity, loss of love and affection, pain and suffering, medical expenses past and future and sometimes even attorney fees and costs of litigation.
Determining whether a maritime worker is a Jones Act seaman is a case by case analysis that requires an experienced maritime lawyer. In addition to the crewmembers of inland drilling barges, dive boats, drill ships, cargo vessels, push boats, supply boats, crew boats, crane barges, construction barges, fishing vessels and the like, other maritime workers can also be considered seamen in certain circumstances.
For instance, cover stackers on the river are often assumed to be longshoremen, not seamen, but it is not a bright line rule. That's why you should always call an experienced maritime lawyer if you've been hurt on or near the water, just to be certain you don't have more rights than your employer says you do.
Over $1 Billion Recovered For Our Injured Clients
Help For Injuries That Fall Under Other Maritime Laws
Not all maritime workers have seaman status, but that does not mean they aren't protected by maritime laws. The Longshore and Harbor Workers' Compensation Act, the Death on the High Seas Act, Outer Continental Shelf Lands Act, general maritime law and even some state laws all provide different protections. Having an attorney who is well-versed in all types of maritime claims will help you be sure that you maximize your recovery.
Get New Orleans Offshore Injury Help Today
Remember, you didn't ask to get hurt. You deserve justice and you deserve the maximum recovery available to you, so you can help put your life back together. The best way to ensure that you get everything you deserve is to call an experienced maritime firm that knows what it's doing.
When you've been hurt while working offshore, don't stop to ask yourself, "Do I need a maritime attorney?" Just call Lambert Zainey today at 1-800-521-1750 for a free consultation. We've been representing maritime workers for over 40 years. When you call us about your maritime injury, you will speak with an actual attorney, experienced in maritime law and the maritime industry, not a paralegal and not a secretary. We understand that your case and your situation is important and needs to be addressed immediately. Let us do that. Call maritime lawyers at Lambert Zainey today.
Section Open DIV
Nationally Recognized Attorneys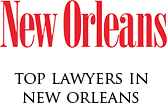 Section Close DIV