Filing a claim for an injured maritime worker isn't quite the same as worker's compensation claims for other jobs. Maritime employees may fall under the jurisdiction of several federal maritime laws, and to file a claim on their behalf requires specific knowledge and experience in the area of admiralty law.
One of the most important laws governing the rights of maritime workers is the Jones Act. Enacted in the 1920s, it provides protections for seamen who are injured on the job.
The New Orleans Jones Act attorneys at Lambert Zainey are often approached by injured workers who aren't sure whether they qualify as seamen, don't know whether they have a legal claim, and aren't fully aware of the damages the Jones Act provides for.
Do I Qualify As A Seaman?
Jones Act provisions only cover injured workers who qualify for the legal definition of a seaman. There are a few questions a Louisiana maritime attorney will look at to determine this qualification:
Do you work on a vessel that is in navigation (not moored or permanently docked)?
Do your duties contribute to the function or mission of the vessel?
Do you have a substantial connection to the vessel, spending at least 30 percent of your employment on it?
If you meet the above criteria, then you may qualify as a Jones Act seaman. Some crewmembers may feel they don't meet these standards, but the law is broad and complex. A Jones Act lawyer can advise you on whether your specific situation qualifies under the requirements.
Over $1 Billion Recovered For Our Injured Clients
Jones Act Information Center
Section Open DIV
Nationally Recognized Attorneys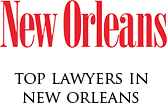 Section Close DIV
Do I Have A Jones Act Claim?
Another criteria for a claim under the Jones Act is that the injuries must have resulted from negligent acts. Negligence is legally defined as the failure to exercise reasonable care to avoid injuries or damages. In a Jones Act seaman lawsuit, the negligence may be on the part of the ship owner, an employer, or even co-workers whose actions led to your injuries.
While maritime work has inherent risks, workers in this industry have a legal right to reasonable safety measures. Some of the examples of negligence that qualifies for a claim are:
Failure to fix or maintain equipment
Failure to properly train workers
Failure to provide proper safety gear
Failure to provide proper safety procedures
Failure to inspect vessel
Failure to provide a seaworthy vessel
Any incidence of negligence, no matter how slight, that contributed to your injury may qualify you for a Jones Act lawsuit.
How An Experienced Jones Act Seaman Lawyer Can Help
The Louisiana maritime injury attorneys at Lambert Zainey believe maritime employees deserve a safe working environment and reasonable compensation when injuries occur. When your employer fails to hold to this standard, our personal injury attorneys will work hard to get the damages you are entitled to. Contact us today to discuss your case in a free, confidential consultation.