When a person seeks employment in the offshore industry, they understand that the job comes with inherent risks other work doesn't. Some of the most common offshore injuries can be severe, even life-threatening.
These risks of suffering these injuries is greatly increased when employers and other workers are negligent in their duties. At Lambert Zainey, our experienced Louisiana offshore injury attorneys have helped workers hurt in many different types of offshore accidents.
Types of Offshore Injuries
Offshore workers commonly experience maritime injuries including:
Back injuries: While not always catastrophic, back injuries can severely impact an offshore worker's ability to perform his job, affecting his future earning potential.
Burns: These injuries can be among the most severe, with long-term physical and emotional scars.
Spinal cord injuries (SCI): Injuries to the spine can lead to paralysis and loss of limb function.
Brain injuries (TBI): Workers who suffer traumatic brain injuries can have problems with long-term cognitive and neurological functions.
Orthopedic injuries: When the bones, tissue or joints are injured, the short- and long-term effects can range from minor to severe.
Amputations: The loss of limbs or digits may occur during an offshore accident, or be necessary as a result of the injuries sustained in an accident as part of your medical treatment.
Crush injuries: Workers trapped between or under heavy objects can suffer crush injuries, to the whole body or to limbs and digits.
Eye injuries: Injuries that affect the eyes can lead to vision loss or impairment, rendering the worker unable to return to his job.
Acoustic trauma: Hearing damage can have long-term effects on your ability to work, as well as your ability to function normally in daily life.
Compensation for Offshore Accidents
Many of these injuries can be classified as catastrophic. That means they have the potential to be life-altering in nature. Depending on the severity of your injuries and the circumstances that contributed to them, you may be entitled to compensation for medical bills, future medical bills, rehabilitation expenses, lost wages, and future wages.
In the most severe cases, these injuries can lead to death. Workers' families may be entitled to compensation through a wrongful death claim against the responsible party.
Over $1 Billion Recovered For Our Injured Clients
Section Open DIV
Nationally Recognized Attorneys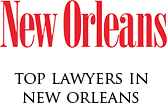 Section Close DIV
Get Help With Offshore Injuries Today
Lambert Zainey's experienced offshore injury trial lawyers have been helping protect workers' rights for more than 35 years. Our attorneys assist clients injured in the waters off Louisiana and throughout the Gulf Coast region. We take pride in providing an aggressive defense for our clients to get the best result possible.
If you've been injured or a loved one was killed while working offshore, schedule a free consultation with one of our personal injury lawyers today. There is no fee for our services until and unless we recover compensation for you.